John Burke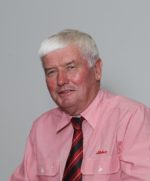 Rural Property Consultant - QLD/NT
Rural Property Consultant - licensed Real Estate Agent and Auctioneer.
Previous Rural Sales Executive to Elders Northern Zone, John has a Certificate of Business Studies – Real Estate and Graduate Certificate in Management.  He currently holds Queensland, New South Wales and Northern Territory Real Estate and Auctioneers licences.
John has a strong association with the land, having grown up on a mixed farming property in western Victoria.
John has over 40 years experience in rural real estate management, sales and marketing across Queensland, New South Wales, Northern Territory, Victoria and Kimberley WA.  Having been with Elders for over 20 years, during this time John has had extensive experience dealing with major corporate clients in the pastoral industry, major banking corporations, as well as receivers and managers. 
07 3840 5503
07 - 3844 9649
0428 457 976