Clayton Smith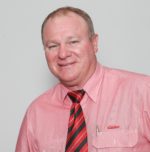 Rural Property Specialist - Goondiwindi, Meandarra
Clayton has 16 years local Real Estate experience, specialising in rural property sales.  He has achieved numerous Top Salesperson Awards for Queensland and nationally.
Clayton has valuable knowledge on the local and regional farming best practices and close working relationships with irrigators and water users in the region.
Clayton has conducted numerous successful marketing campaigns for both Supplemented and Un-supplemented water allocations in the nearby systems. Clayton is also considered a leading expert on water sales in the region. He conducts annual Auction Sales and between $3,000,000 and $5,000,000 of water trades within the local systems.
A prime example of the value his local knowledge can offer on Water matter was exhibited with a recent auction result.  Acting as an exclusive agent on behalf of Essential Energy and the NSW State Government he sold (under the hammer) permanent entitlement rights to high security water for 6800 per ML.  This was a result 180% above reserve.
07 4670 0000
07 4670 0055
0428 878 523