Andrew Adcock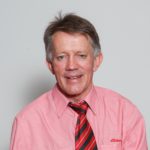 Northern Zone Real Estate Manager
Andrew is a licensed Real Estate Agent and Auctioneer Queensland and JP Qualified
He prides himself on his confidentiality, integrity and honesty
Andrew commenced his real estate career with Elders in the 1980's servicing south west Queensland based at Charleville.  During this time he worked as a commission agent with the offices at Quilpie, Cunnamulla and Charleville.
In 1999 he took the opportunity to move to Brisbane with Elders as the State Real Estate Sales Manager. This role involved travelling around Queensland and Northern New South Wales supporting the company offices and commission agents.
In 2003 Andrew left Elders to further his career as an owner of the Ray White Rural (Qld) franchise office.  During the next 10 years as well as selling rural property across SA, NSW, QLD and NT, he worked with many of the group's rural franchise offices offering support and advice.
Andrew has always based his business on the Auction system and has had much success in marketing all types of rural property and other asset classes by Public Auction.  During the years of ownership the Franchise was always the most successful marketing business in the rural network.
After selling the Franchise in 2013 Andrew stayed in the business for a period of time before purchasing a rural property at Kyogle in New South Wales and having a year as a farmer.
In 2015 Andrew was approached by a rural network to head up their real estate and property network which had operations Australia wide. From here Andrew returned back to Elders (where his career began),  as the Northern Zone Real Estate Manager, after an absence of 14 years.
Andrew has a passion for marketing and selling rural property and working with clients to obtain the best result for them in the realisation of their assets value.
Outside of his real estate agency interests Andrew was involved in the horse racing industry as a bookmaker for 30 years from Birdsville to Brisbane.  Interests now include travelling with his family, snow skiing, running, cycling and most sports.
Andrew's Awards

Multi Award Winner